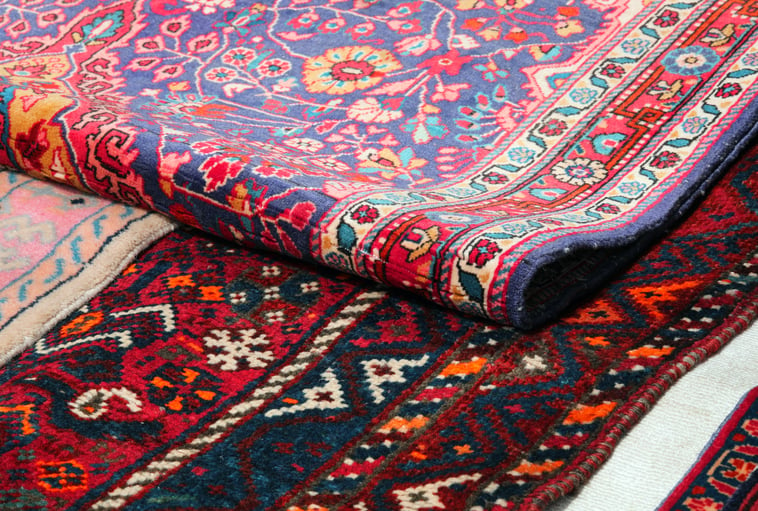 Oriental rugs can instantly make a room warm and charming. The uniqueness and quality of Oriental rugs is something to be celebrated and preserved. It may seem like a daunting task to properly clean and care for an Oriental rug, but it's not so difficult with the right tips!
What Is an Oriental Rug?
Oriental rugs are defined as hand-knotted rugs that typically were made in Asia. They are woven using a loom. While today's rug-making process has made creating rugs that appear to be Oriental easy, true Oriental rugs are hand-knotted. Oriental rugs are typically made from wool or silk fibers.
How Should I Clean My Oriental Rug?
If you own or plan to own an Oriental rug, you will probably want to invest in its care. Depending on their age, Oriental rugs can sometimes be fragile because each are uniquely hand-woven. As a result, it's important to properly care for them.
Method
One of the most important things that you can do for your rug is vacuum it often. By using a soft-beater bar on your vacuum (and carefully avoiding any fringe), you will gently vibrate the dirt out of the fibers. Vacuuming is a great way to care for any carpet or rug in your home so that dirt and other particles aren't pressed deep into the fibers.
For a deep clean, it's best to contact a professional. While you can attempt to shampoo or steam clean your rug, it's not recommended as a DIY project. Because Oriental rugs can be fragile, a wrong move can ruin them. If you do decide to deep clean on your own, be sure to test a small spot before moving to larger areas. Often, the dyes in the rug will fade or even bleach. A professional carpet and rug cleaner will be able to identify the fibers in your rug as well as the best way to treat them.
Frequency
Vacuum and spot clean your Oriental rug frequently and as needed. How often you'll need a professional cleaning for your Oriental rug depends on how heavily it's used. Rugs in high-traffic areas need more frequent cleaning. You can rub the fibers of your rug with your hand to see if it's time for a cleaning. If dust and dirt fly up when you rub it, you should contact a professional to schedule your rug cleaning.
How Do I Maintain the Quality of My Oriental Rug?
Maintaining the quality and appearance of your Oriental rug often goes beyond regular cleaning. To protect your rugs,
Rotate them often. Rotating your rugs prevents damage and keeps them looking fresh by distributing the wear and tear evenly.

Keep your rug out of direct sunlight as much as possible. Sunlight can cause rugs to fade quickly. Rotating can help with this problem, as well, but the best recommendation is to simply block the sunlight from hitting your rug as much as possible.

To help your rug keep its form and structure, use padding underneath. Padding helps to keep the rug stabilized and prevent wrinkles, which can be the starting point for damage.
If you think it's time for a professional rug cleaning, contact Dream Steam's trained cleaning and restoration technicians. For more tips on how to maintain your rugs, follow our blog!